Brandon Gets Back In The WH Looking Lost Again, "Fashion Icon" Jill Re-Wears The Dress That Looks Like A Table Cloth For The Third Time (Photos & Video)
Joe Biden and Jill Biden were dressed to "impress" while walking across the White House lawn with their gorgeous granddaughter Naomi after attending Cuffe Biden Owens' Pennsylvania wedding.
Joe Biden, 78, and Jill Biden, 70, spent their Columbus Day attending the nuptials of their nephew Cuffe Biden Owens, 42, and his new bride Meghan King, 37, in Kennett Square, PA and returned to the White House shortly after the celebration with their granddaughter Naomi, 27. The U.S. president and first lady were photographed touching down in Washington D.C. with the daughter of their son Hunter Biden, 51, and his ex-wife Kathleen Buhle Biden, 51, before they all walked across the South Lawn of the White House in their "fancy" wedding attire.
While Brandon could barley walk and didn't know what planet he's on, Jill made here "fashion statement" yet again!
Video below:
Welcome back Brandon. pic.twitter.com/KPLpIf50YV

— 🧢מאק (@beingrealmac) October 11, 2021
She just proved that if you love an outfit, it's worth re-wearing multiple times — down to the shoes.
While arriving to the White House today with President Joe Biden, the first lady was seen in a pale blue Oscar de la Renta dress. The belted number featured a yellow and green print of hanging lemons, as well as short sleeves and a midi-length skirt. Biden cleverly paired the dress with a matching face mask in the same print, as well as versatile accessories like a silver watch, gold bangles and a sleek gold clutch.
This wasn't Biden's first appearance in the dress. Earlier this March, she wore the citrus-printed piece at the State Department's International Women of Courage Award ceremony. In April, she wore the dress again — with the same mask — while visiting Georgia to commemorate her husband's 100th day as president. This time, she paired it with bright yellow suede pumps with pointed toes, plus thin heels totaling at least 3 inches in height. Her shoes happened to be the same pair she wore with the dress this April.
Images below:

Many people compared her dress with a table cloth but it seems that she really loves this dress!
OPINION: This article contains commentary which reflects the author's opinion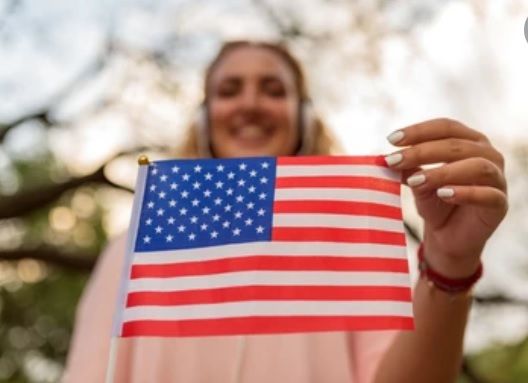 Sullivan pens a regular column that focuses on corruption within government, cronyism, illegal immigration, and general left-wing malfeasance. Kathy also serves as a leading voice against the establishment within the Republican Party and enthusiastically promotes pro-Trump candidates to battle entrenched moderate incumbents.