Officer Exhale A Knock Back To A Crazy Antifa Pro Abortion Protestor – Their Reaction Is Hilarious (Video)
President Joe Biden remained silent over the weekend as pro-abortion rioters threatened churches and terrorized Supreme Court justices.
Law enforcement officials in New York and Pittsburg beefed up weekend security for churches after a shady radical pro-abortion group, Ruth Sent Us, called on supporters to picket religious institutions, especially Catholic ones. In Boulder, Colo., a Catholic church was vandalized with pro-abortion graffiti Tuesday night, although it's unclear who's responsible for the damage.
As you can see in the videos below, these pro-abortionists were trying to gain access to St. James Cathedral while mass was in session. As you can also see below, most of them were wearing hospital gowns with fake blood where their wombs are. These outfits were accompanied by a hanger prop.
They laid themselves on the steps. According to the lady shrieking into the bullhorn, it seems their point was that Christians are responsible for the deaths of women who couldn't get an abortion and so decided to try doing it themselves, resulting in a Darwin award. Apparently, the woman's choice of trying to abort the baby herself is the Christian's fault.
In one incident a security officer had a confrontation with dozens of protesters who were trying to breach the parameter and he exhaled a knockback to a crazy person!
At some point, the protesters attempted to gain access to the church. Authorities and security were both there to stop them from doing so. One of the protesters attempted to grab the arm of one of the security guards and was pushed back. The woman appears to make a show of falling down the stairs and staying down as if she were wounded. The guard is then screamed at by other protesters with accusations of being a "predator" and a "pedophile."
The security officer was just doing his job!
Their screaming reaction is priceless.
Video below:
#Seattle
Did the officer's exhale knock back the pro abortion protestor ?

— The Daily Sneed™ 🇺🇸 (@Tr00peRR) May 9, 2022
"What are you going to do? F*cking shoot us," a protester yells at a Seattle Police officer calmly asking the group to leave private property. pic.twitter.com/d4xWm3ejMl

— The Post Millennial (@TPostMillennial) May 9, 2022

Unsurprisingly, the woman in the solid green shirt screaming is Christina Valera Devitt.
She's a frequent face at #Antifa riots and was previously charged for slamming a large dumpster into the garage door of SPD East precinct. She also has past ties to MS-13.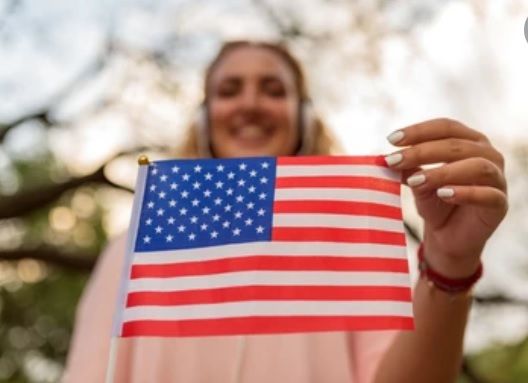 Sullivan pens a regular column that focuses on corruption within government, cronyism, illegal immigration, and general left-wing malfeasance. Kathy also serves as a leading voice against the establishment within the Republican Party and enthusiastically promotes pro-Trump candidates to battle entrenched moderate incumbents.