Videos: "The Pervert-In-Chief" Suffers "Brain Freeze" And Went On With Schumer's Racist Tirade In New York
Opinion
President Joe Biden stumbled through parts of his Tuesday briefing on Hurricane Ida, leaving the definition of a tornado unclear.
Biden visited New York and New Jersey to observe the damage caused in recent days by Hurricane Ida. He discussed the impact of the storm, as well as other devastating weather incidents around the nation and how they relate to climate change.
"We've got to make sure that we don't leave any community behind, and it's all across the country," Biden said at a press conference in New Jersey.
It was all looking normal until Biden had another brain freeze.
Biden began to describe damage from tornadoes to communities in the middle of the country.
The problem is he probably knows another name for Tornado!
"You know, it looks like a tornado — they don't call them that anymore — that hit the crops and wetlands in the middle of the country in Iowa and Nevada — I mean, it's just across the board," Biden said during a stop in Manville, New Jersey.
Video below:
Weatherman Joe Biden !! pic.twitter.com/Do3ote5vls

— 🧢מאק (@beingrealmac) September 7, 2021
He continued his tour and got into more trouble!
A Manville, NJ, man interrupted Biden's message by shouting, "Resign, you tyrant!" as he toured a devastated neighborhood. The heckler stood in his yard with a campaign flag for former President Donald Trump. Reporters positioned between Biden and the man said Biden did not react to the taunts.
Other pro-Trump protesters had greeted Biden's motorcade along its route through North Jersey.
Multiple protesters were photographed giving the president a middle finger as he drove from Hillsborough Township to nearby Manville.
Apparently, we are going to need a time machine because Joe Biden told the Queens crowd: "By 2020 [we're going to] make sure all of our electricity is zero emissions" as he sold his Communist 'green new deal' pile of garbage.
Video below:
Joe Biden vows to "make sure all of our electricity is zero emissions…" by 2020? pic.twitter.com/IidKHfa4rt

— Townhall.com (@townhallcom) September 7, 2021
In Queens, Biden greeted locals who approached his entourage of elected Democrats. Reporters were at a distance and could not relay most of the words that were exchanged with residents.
Here the Dems once again proved that they are not done with their racist past!
Schumer was here to point to the "Mexican" with the American flag!
The kid was born in our country and holds an American passport.
A 7-year-old boy holding an American flag on an alley porch waved at Biden and elicited a shouted reply from the nearly 79-year-old president.
"How are ya, pal? How old are you?" Biden shouted. "Oh! You're gettin old," the pervert-chief Biden said to the 7-year-old child.
"The neat thing about America: every time we end up with a problem going into a serious circumstance, we come out better than we went in. That's because we're so diverse. That's America. Be proud of it," Biden shouted at the child, adding, "And don't jump!"
Video below:
"Look at that Mexican with the American flag" 🤣

— Art TakingBack 🇺🇸 (@ArtValley818_) September 8, 2021

Another day another proof of Bididen's mental decline!
OPINION: This article contains commentary which reflects the author's opinion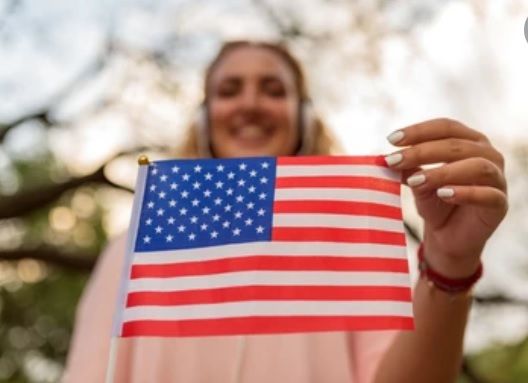 Sullivan pens a regular column that focuses on corruption within government, cronyism, illegal immigration, and general left-wing malfeasance. Kathy also serves as a leading voice against the establishment within the Republican Party and enthusiastically promotes pro-Trump candidates to battle entrenched moderate incumbents.