Woman Wearing "Let's Go Brandon" Shirt Was Kicked Out Of A Hockey Game – The Fans Reaction Speaks Volumes (Video)
Sen. Ted Cruz (R-Tex.) accused the Biden administration of violating the First Amendment in its push for social media companies to do more to combat false claims about the shot, joining other conservatives who have seized on the Biden administration's recent offensive against coronavirus vaccine misinformation in their crusade against big tech.
But the Biden administration censoring conservatives on every other field!
Censoring F**k Joe Biden was one of the steps but now, the less vulgar alternative Let's Go Brandon is targeted!
Even NASCAR denounced its association with the "Let's go, Brandon" and labeled as a political cry being used across the country as an insult directed at President Joe Biden. Steve Phelps, NASCAR's president, said Friday the top motorsports series in the United States does not want to be associated with politics "on the left or the right."
Phelps also said NASCAR will pursue action against any illegal use of its trademarks on merchandise boasting the slogan. Retired baseball star Lenny Dykstra posted a photo on Twitter this week of a man-eating breakfast at a New Jersey hotel wearing a black "Let's go, Brandon" shirt alongside NASCAR's trademarked color bars.
"We will pursue whoever (is using logos) and get that stuff," Phelps said. "That's not OK. It's not OK that you're using our trademarks illegally, regardless of whether we agree with what the position is."
Brandon Brown won his first career NASCAR race in October in Alabama, and the Talladega Superspeedway crowd at the Xfinity Series race chanted "F— Joe Biden" during Brown's interview. NBC Sports reporter Kelli Stavast incorrectly told Brown the fans were cheering "Let's go, Brandon."
And it become a trademark ever since!
But a video that was sent to us this morning raises the question about our freedom of speech!
In the video, a woman was allegedly kicked out at the Hockey game for wearing a "Let's Go Brandon" shirt.
But the reaction of the audience was priceless as they show their disapproval for removing her.
The video is allegedly taken in Wichita Kansas.
The home team is the Wichita Thunder, they are a minor league ECHL team and their owner is Brandon Steven.
Video below:

Perhaps she's cheering for Brandon Steven, you know, the owner of the Wichita Thunder
Thunder released a statement:
"She wasn't kicked out for the sweatshirt. The rest of her party wearing the sweatshirts remained at the game. She was removed by arena security after multiple warnings, because she was using inappropriate language and gestures toward those around her."
OPINION: This article contains commentary which reflects the author's opinion
Reminder: The purpose of the articles that you will find on this website, are to EDUCATE, not to disinform or grow hate and anger!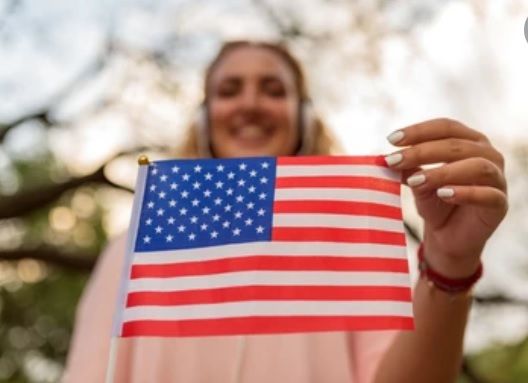 Sullivan pens a regular column that focuses on corruption within government, cronyism, illegal immigration, and general left-wing malfeasance. Kathy also serves as a leading voice against the establishment within the Republican Party and enthusiastically promotes pro-Trump candidates to battle entrenched moderate incumbents.